Sale-A-Brate Digital vs Traditional Stamping
Rae's Sale-A-Brate Digital vs Traditional Stamping Project
I was recently offered a challenge through a paper crafting business group I belong to. Yes, it is a business. Who says we can't have fun while earning a living?
The challenge? "Write a blog post featuring a product that utilizes a stamp set you DON'T own."
Are you scratching your head yet? I know I was. After scratching most of my hair out, I started looking around for inspiration. That's when I found this card from one of the Stampin'Up! designer's. Guess what? I didn't have this stamp.
Stampin'Up! Traditional Stamping Sample
(Original Sample)
A few minor changes but other than that, it's the same card. How was it done? I used the "One Big Sale-A-Bration 2013 Digital Disc" (#130676). This disc is loaded with all of the items from the 2013 Sale-A-Bration brochure in digital form. Woohoo! Now we're cookin'. The Sale-A-Brate Digital vs Traditional Stamping project is born!
First thing to do is make sure I'm happy with the colors of the original card.
Individual elements from the stamp "brush" set were printed in several different colors. As you can see from the finished card, the original color scheme was kept. Bonus! Left over images ready for future projects. The Designer Series Paper? Traditional. However, with the Sale-A-Bration Digital Disc, you could even print your own paper. Fantastic!
A question I'm often asked is "How do you make your banner ends so perfect?"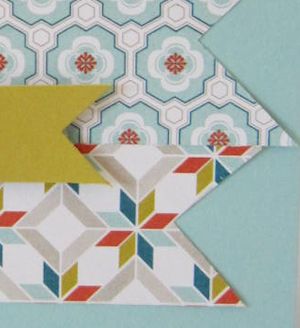 The answer is yours when you're a Wild West V.I.P.
Sign-up today and the "Perfect Banner Tool Tip" is yours but only if you sign up before Saturday, February 23, 2013 at Noon Pacific Time.
So, what do you think? Did I meet the challenge?
On to the Nuts & Bolts for this Sale-A-Brate Digital vs Traditional Stamping project. Click the Nuts & Bolts graphic for a download PDF for both Hybrid and Traditional versions of this Sale-A-Brate Digital vs Traditional Stamping project.
Size: 4-1/4" x 5-1/2" (A2 Envelope)
Stamps: Feeling Sentimental (One Big Sale-A-Bration 2013 Disc #130676); Card Stock: Pool Party (#122924), Summer Starfruit (#126839), Naturals White (#102316); Designer Series Paper: Sycamore Street (#127540 Sale-A-Bration), OR One Big Sale-A-Bration 2013 Disc (#130676); Ink & Coloring: Digital Color-Tangerine Tango, Summer Starfruit; Embellishments: Jewels Basic Pearls (#119247), Ribbon – 3/8" Stitched Satin (Summer Starfruit #126846), Linen Thread (#1104199); Tools: Color Printer, Computer, Software-My Digital Studio – MDS2 (Download #130644; Disc #1130645), or MDS2+ (Download #130646; Disc #130647); Trimming & Cutting: Paper Snips (#103579), Stampin' Trimmer (#126889); Adhesives: Glue Dots (#103683), Multi Purpose Liquid Glue (#110755), SNAIL Adhesive® (#104332); Stampin' Dimensionals® (#104430).
Get your hands on these Sale-A-Bration products
See you tomorrow!